LHX Growth Prospects Take Off with Space wins and Defense Spending
| | | |
| --- | --- | --- |
| Price $168.88 | Dividend Holding | September 12, 2023 |
2.72% Yield.
Huge backlog which expanded by 25% year over year to $25 billion. Increased book-to-bill to 1.18x across the entire company.
Global rearmament campaign, NATO militaries ex United States increasing equipment spending by 24.9% year over year. The US approved the largest defense spending package in history.
Expanding the total addressable market in space, with a 1.7x book-to-bill, and the acquisition of Aerojet Rocketdyne, adding $2 billion per year in revenue.
Investment Thesis
L3Harris (LHX) is an American technology and information services provider that focuses on the defense industry. It was formed in 2019 by a merger between L3 Communications and Harris Corporation, making it the 6th largest defense contractor at the merger's closing.
LHX is poised to benefit from increased defense spending, particularly the EU's 24.9% increase year over year in equipment spending. With major wins in the space segment and a massive $25 billion backlog, LHX offers dividends, growth, and a reasonable price.
Estimated Fair Value
EFV (Estimated Fair Value) = EFY26 EPS (Earnings Per Share) times PE (Price/EPS)
EFV = E24 EPS X P/E = $13.2 X 18.0 = $237.60
| | | | |
| --- | --- | --- | --- |
| | E2023 | E2024 | E2025 |
| Price-to-Sales | 1.6 | 1.5 | 1.4 |
| Price-to-Earnings | 13.8 | 12.6 | 11.7 |
Market Conditions
Numerous significant geopolitical events around the world drive significant demand for military systems. After decades of budgetary neglect, the Russian invasion of Ukraine in 2022 demonstrated to NATO how critical defense is. FY22 NATO budget ex-United States was $356 Billion, an 8.3% increase year over year and the largest sequential change ever recorded. By covenant, NATO countries are required to spend 2% of their GDP on defense, a figure that many countries fall short of with the median being 1.82%. On a more granular level and of importance to LHX, NATO ex-United States has increased equipment spending by 24.9% year over year as countries seek to re-equip their militaries in the face of Russian aggression.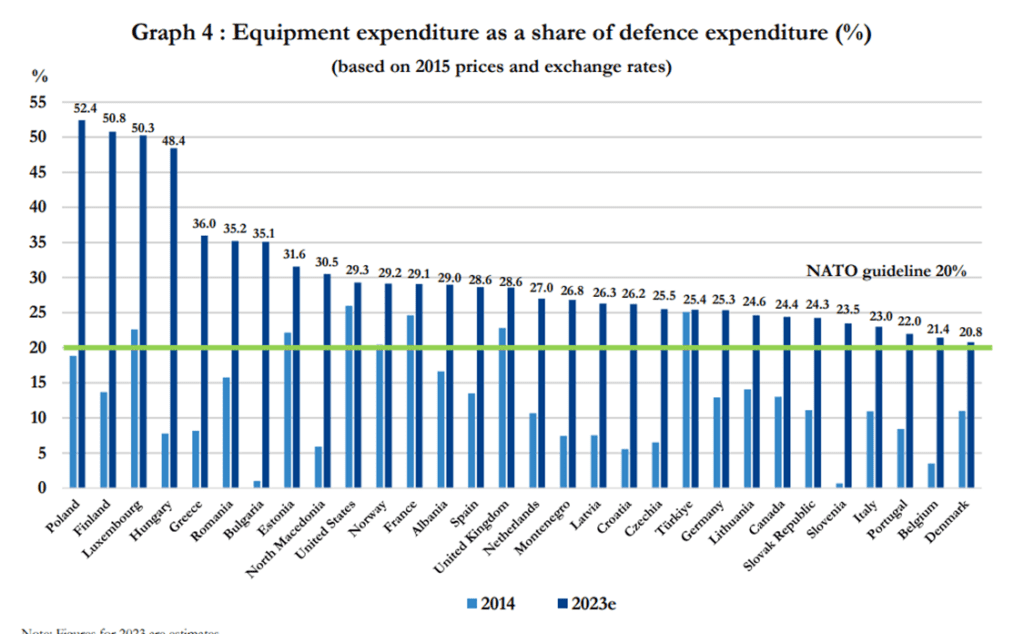 The US military budget is slated to be $824 billion in discretionary spending, the largest ever. Per the Department of Defense, a large part of this is ensuring US dominance in the face of China's rapid modernization and technological achievement. There is near bipartisan consensus on increasing military spending to deter China in the Pacific, with additional commitments to Ukraine developing by the day. Additionally, there is huge emphasis on the space domain, with Secretary Frank Campell stating that space is near the top of the Air Force's priority list.
Rocketdyne Acquisition
To address the huge backlog in the space area and expand the addressable market, LHX closed its acquisition of Aerojet Rocketdyne in July of 2023. LHX has increased its presence in space by 10x in 4 years, with over 50 active contracts. LHX hopes to repeat this growth, with a 4x increase in deliveries targeted from FY21-FY25.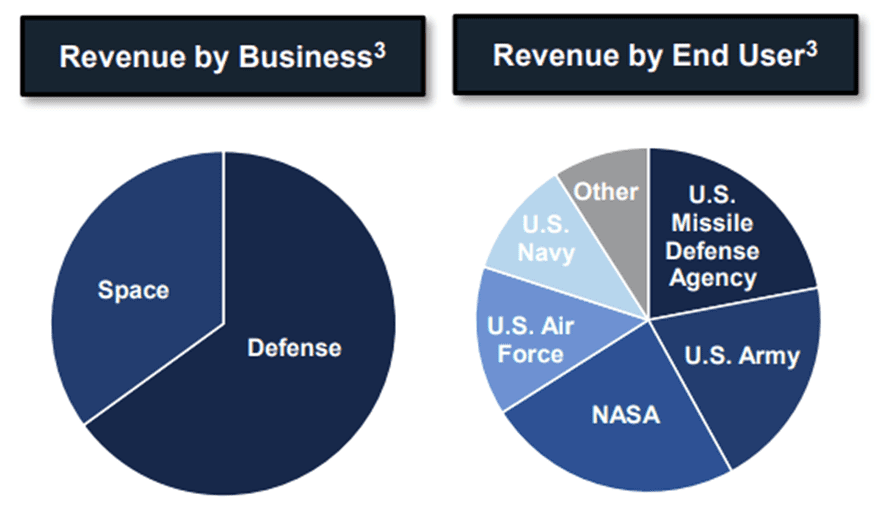 Rocketdyne would add $2 billion per year in revenue and $7 billion to the backlog while maintaining a similar company-wide EBITDA margin of 15%. Rocketdyne will add a product line through rocket motors, a segment that includes key ballistic missile defense contracts, NASA, and hypersonic research. The acquisition will be accretive in the first year, with integration efforts being slow and steady through FY25.
Operations
LHX operates 3 primary segments: Integrated Mission Systems, Space & Airborne, and Communication Systems. Across all segments, LHX averages 15.4% operating margin, and 75% fixed price contracts. LHX provides several key technologies at the core of the cutting edge of military technology, and its products make up the backbone of global military communication and intelligence networks.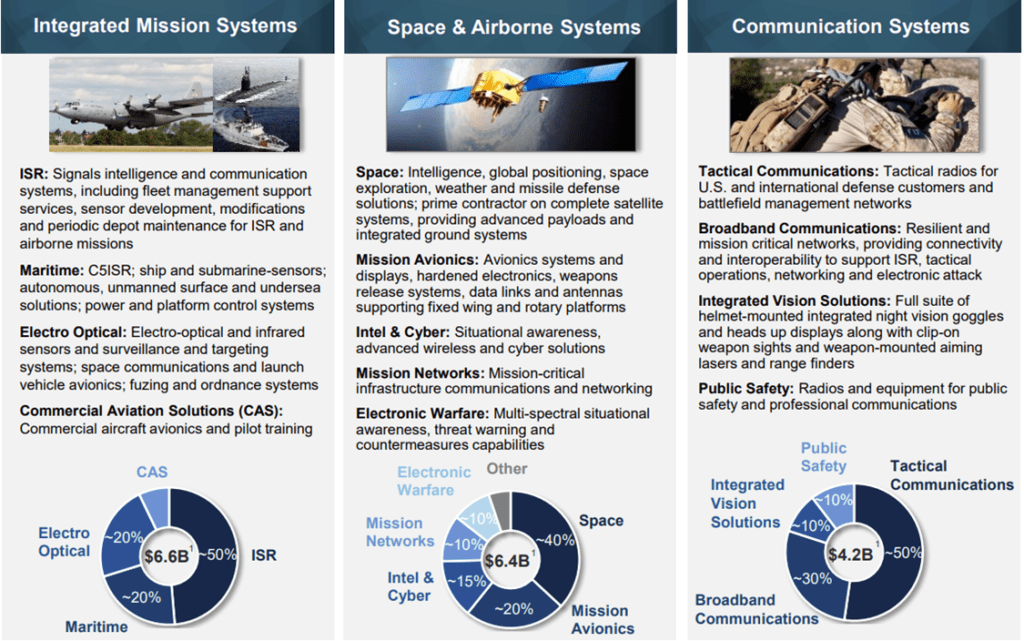 Across all segments and domains, LHX got several key contract wins, adding to the extensive backlog. LHX maintains a huge backlog, which has increased 25% year over year. This backlog represents $25 billion in contractual obligations, with a company-wide book-to-bill of 1.18x. The space area had the largest and most impressive results, with a book-to-bill of 1.7x, for a total of $940 million in orders. Air saw $750 million in orders, including a $300 million addition to the existing >$12 billion in aviation maintenance and upgrade contracts. Sea saw $390 million in new wins, Land $500 million, and Cyber $250 million.
Risk
The Fiscal Responsibility Act of 2023 suspended the debt limit through 2025, and established new discretionary spending for defense accounts, the previously mentioned $842 billion figure. This will offer some short-term relief for uncertainty, but the move was unpopular and will almost certainly lead to a standoff in the future. There is a serious risk of a government shutdown, meaning defense contractors do not receive payment.
Defense contractors have two primary periods: short-term and long-term. The short-term represents procurement of new items, and the long-term represents contracts for maintenance or supply agreements. LHX derives a significant income (75%) from the long end of these. LHX products are often at the core of systems or bolt-on rather than specific large line-item procurement like its competitors. While this creates a more reliable cash flow stream over time, LHX cannot exercise nearly as much pricing power in the short end.
Outlook
LHX capital deployment targets 1.5% revenue to capex (currently 2%) and maintains a debt-to-EBITDA ceiling of 3.0x. During 2Q23, LHX repaid $800 million in notes. We expect this to trend higher as increasing the credit rating and deleveraging from the Rocketdyne acquisition has become a strategic priority. This will be facilitated by divestitures and by a "moderation" in share repurchases.
Despite increased debt repayments, free cash flow guidance remains unchanged at $2 billion generated for FY23. As previously stated, repurchases will likely trend down, but LHX currently yields 2.72% or $4.56 per share annually. The 5-year growth rate on the dividend is 13.6%, with LHX consistently raising the dividend as financial results improve.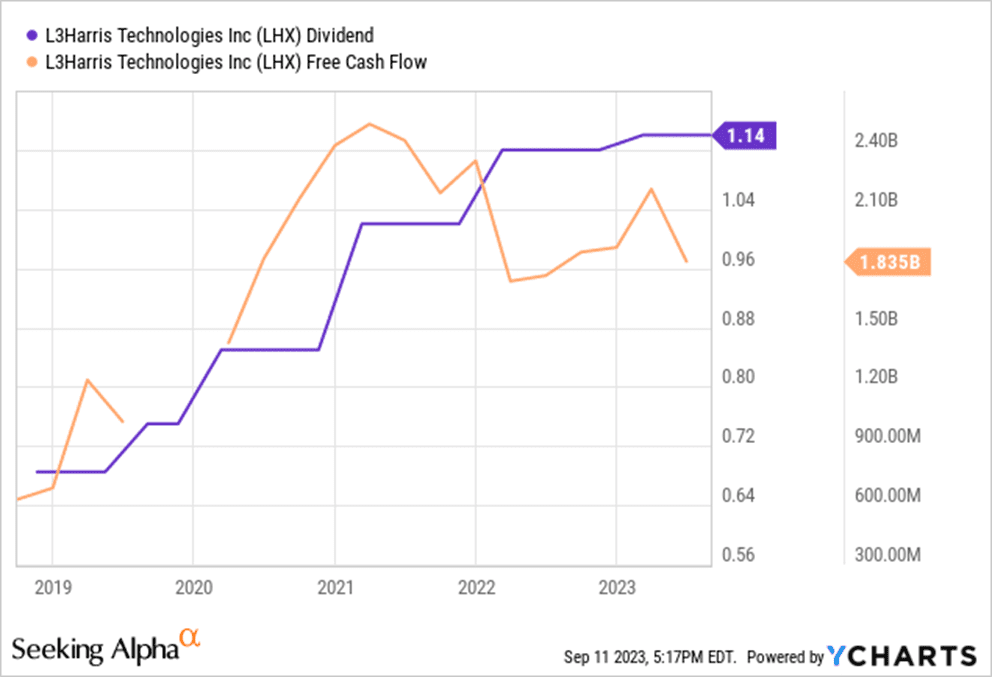 On a secular basis, there is significant growth in the space area with over $900 million in new contract wins, targeting a further expansion of this by FY25 with the acquisition of Aerojet Rocketdyne. Additionally, NATO militaries are drastically ramping up procurement efforts for modernized equipment in the face of the war in Ukraine, and the US is heavily investing in Chinese deterrence, driving a $25 billion backlog. LHX has positioned itself as a "trusted disruptor" in several key areas within global militaries. It provides a stable yield and has good growth prospects.
Competitive Comparisons
| | | | | | |
| --- | --- | --- | --- | --- | --- |
| | L3Harris (LHX) | BAE Systems (BAESY) | RTX, formerly Raytheon (RTX) | General Dynamics (GD) | Northrop Grumman (NOC) |
| Price-to-Earnings (FWD) | 13.76 | 16.27 | 16.65 | 17.23 | 18.63 |
| Price-to-Sales (TTM) | 1.78 | 1.37 | 1.73 | 1.46 | 1.71 |
| Price-to-Cashflow (TTM) | 14.88 | 7.99 | 23.04 | 14.33 | 16.82 |
| EBITDA Margin | 15.34% | 12.33% | 17.13% | 12.44% | 19.12% |
| Dividend Yield | 2.72% | 2.24% | 2.83% | 2.42% | 1.77% |