Trulieve's Proposed Acquisition set to Accelerate Growth
Price $38.97 Recent Purchase June 7, 2021
Trulieve dominates the Florida cannabis market and is the second-largest in the United States.
Legalization is growing the market exponentially.
Banking prohibitions are set to be reduced allowing for lower taxes and more efficient financing.
Greenfield expansion opportunities with permits in 3 states (MA, CT, WV).
Profitable revenue growth provides capital for expansion and acquisition. Growth is sustainable.
Most profitable company in the sector.
Investment Thesis
Trulieve's proposed acquisition of Harvest would put it in an excellent position, making it the largest and most profitable multi-state distributor of cannabis products. We believe that Trulieve's growth is sustainable, and with more and more states moving to legalize, the market will grow quickly.
Strategy
Trulieve operates a multi-state "seed-to-sale" cannabis enterprise, primarily working in medicinal cannabis. This means they operate their own growth facilities, retail storefronts, and everything in between – holding 51% of the Florida medical cannabis market share with almost 500,000 patients this year, growing at a rate of 6000 new patients a week. There is no doubt Trulieve has impressive numbers, with a customer retention rate of 84% with an average of $113 spent per visit. This brings the dollar-to-square-foot to over $3000/sqft (square feet).
Harvest Acquisition and Other Expansion
Trulieve has recently entered an agreement to acquire Harvest which was growing rapidly. Trulieve's acquisition of Harvest will accelerate expansion plans and create the most profitable multi-state seed-to-sale cannabis enterprise. This acquisition adds five new states, expands the existing footprint in states they share, grows the cultivation and production space to over 3 million sqft, and brings their retail footprint to 126 dispensaries. Harvest operates across 9 states, 9 dispensaries and 880,000 sqft of cultivation space, already. In addition to this acquisition, Trulieve is consistently expanding its footprint in Florida, with 85 acres acquired for a new 1 million sqft growing facility. Trulieve boasted a 102% growth in revenue since last year and a whopping $16 million a month in expansion. Which they promised would increase throughout 2021 as they expand in their "southeast hub", and continue to integrate Harvest's extensive southwest footprint, where they plan to expand their total stores to 114 by the end of FY2021.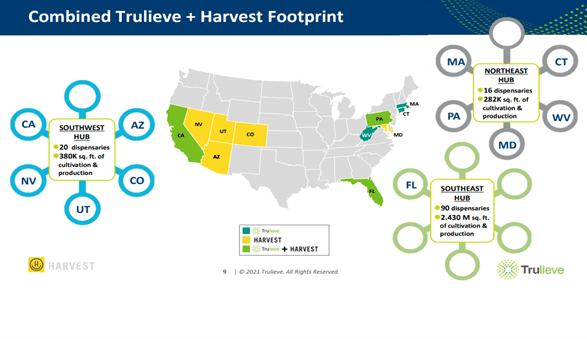 Regulatory Opportunity
Cannabis remains federally illegal and is a schedule I controlled substance. There is currently a wide push by congressional Democrats to extend traditional banking and credit which cannabis companies have traditionally been shut out of. Over time, we expect the Biden administration to legalize cannabis at the federal level or at least move it from a schedule I to a schedule III controlled substance. If either of these were to occur, it would reduce Trulieve's tax and regulatory burden and greatly increase revenue – causing customer growth to explode. Recently the IRS and Treasury Department have begun to change their stance on cannabis companies, releasing several reports and guidance measures for those operating within the industry. However, the IRS has not extended the various tax benefits other businesses enjoy, to cannabis companies.
Even without federal expansion, Florida will likely see recreational cannabis on the ballot in 2022, with Pennsylvania and Connecticut positioned to join the Northeast in recreational legalization soon, too. There is significant momentum in the legalization of cannabis for both medical and recreational uses across the United States, with Arizona and New York both recreationally legalizing earlier this year. Over the 5-year investment horizon, there remains some uncertainty, but there is plenty of room for the cannabis industry to grow throughout the United States.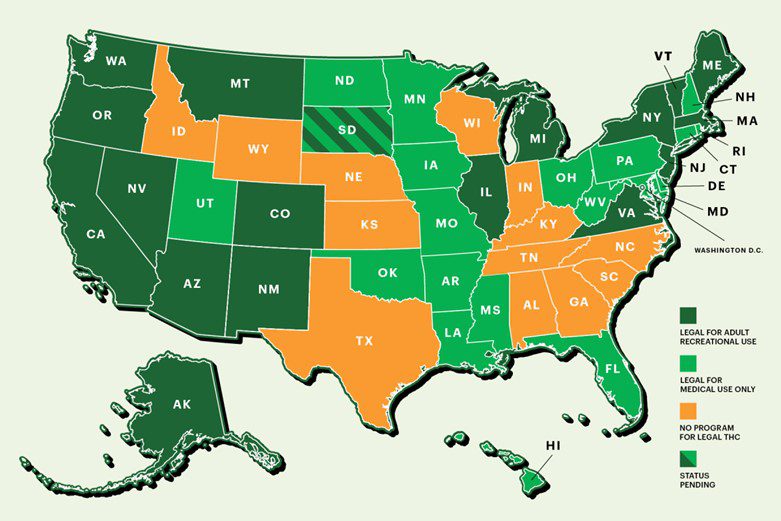 Risk
Cannabis is still federally illegal and a schedule I drug. The cannabis industry is cash-heavy and currently does not have the same level of access to banking and credit that a traditional retail firm might. As previously mentioned, there is a renewed push to expand that access even if federal decriminalization may be out of reach. While we expect cannabis legalization to continue, the primary risk to this investment is that federal legalization is moving at a slower pace than anticipated; thus, Trulieve's addressable market may not expand at a pace fast enough to justify a growth stock multiple.
Metrics
We believe Trulieve will continue to grow and hit its revenue targets, especially with coming market expansions and the recent acquisition of Harvest. They have a consistently positive net income growth, and impressive year-over-year earnings increases.
Current Price

Price-to-Sales

Estimated Price-to-Earnings Ratio (PE)

E2021

E2022

E2023

Trulieve (TCNNF)

$38.97

7.31

22.5

20.0

18.0
The current legal cannabis market of $12.5 billion will grow as more states legalize both medical as a first step and adult-use recreational as a second step. Trulieve's current market share and revenues enable it to capture this growth effectively. As previously mentioned, they have customer retention of 84% and over 600 unique high-grade products. Patients each spend approximately $3200 a year, with same-store earnings increase of 39% over the previous year. We expect strong revenue and profit growth over the next decade.