Trulieve Cannabis's Growth Has Not Gone Up in Smoke

Trulieve Cannabis's Growth Has Not Gone Up in Smoke
Price $10.17                    Growth Holding                        September 23, 2022
Legalization of Recreational use in Florida is slated for a ballot initiative in November 2024.
Expanding its footprint significantly with 30 new stores planned in FY22.
Most profitable cannabis company.
Expects to be free-cash positive in FY23.
Profitability Poised to surge if SAFE Banking Act is ever enacted.
Investment Thesis
Trulieve Cannabis (TCNNF) is a cannabis producer and retailer with 174 dispensaries around the United States and over 4 million sqft of cultivating space. Despite falling from its all-time share price high of $50.42, Trulieve has only strengthened its position in operations and the path forward has only become clearer.
With a planned 30 store openings and 6 store replacements for FY22, Trulieve's growth has slowed
Trulieve will benefit if Federal Legalization bills are passed. It had an effective tax rate of 285% for 1H22. This should be normalized if the Safe Banking Act is passed. In addition, there are numerous regulatory burdens. Legalization will lower taxes and costs. Profits are set to surge if cannabis is federally legalized.
| Trulieve Cannabis (TCNNF) | E2022 | E2023 | E2024 |
| --- | --- | --- | --- |
| Price-to-Sales | 1.5 | 1.4 | 1.3 |
| Price-to-Earnings | Neg | 93.3 | 29.4 |
| EV/EBITDA | 6.3 | 5.5 | 5.3 |
Growth and Strategy
Trulieve operates a "seed-to-sale" vertically integrated cannabis enterprise. Trulieve also operates a wholesale business, selling its various cannabis brands from all product brackets (discount to premium) to other distributors.
Trulieve is expanding fast but has identified "cornerstone" markets to base hubs out of. These include Florida, Pennsylvania, and Arizona. These are the markets that have internal cultivation, processing, and manufacturing operations, which significantly reduces regulatory burden. Additionally, these states already have significant retail Trulieve presence and Trulieve could take a dominant market position in these states once adult-recreational use is legalized. Florida is the largest of these operations, with double the stores of their closest competitors, with a market share approaching 50%.
Trulieve favors pursuing licensing organically, most recently receiving a license in Georgia for medical cannabis. However, Trulieve has in the past and will continue to execute M&A wherever it provides a better point of entry into a market. Some of these M&A activities include affiliates or non-branded (but Trulieve-operated) retail locations. This is changing and Trulieve will now be converting all retail locations to the main brand to enhance the distribution of its branded products.
While the majority of retail locations are in Florida, 31% reside outside of the state, in 8 different states. In FY22, Trulieve expects to further expand its footprint with 25-30 new stores, and the relocation of several former flagships in Florida to newer more favorable locations.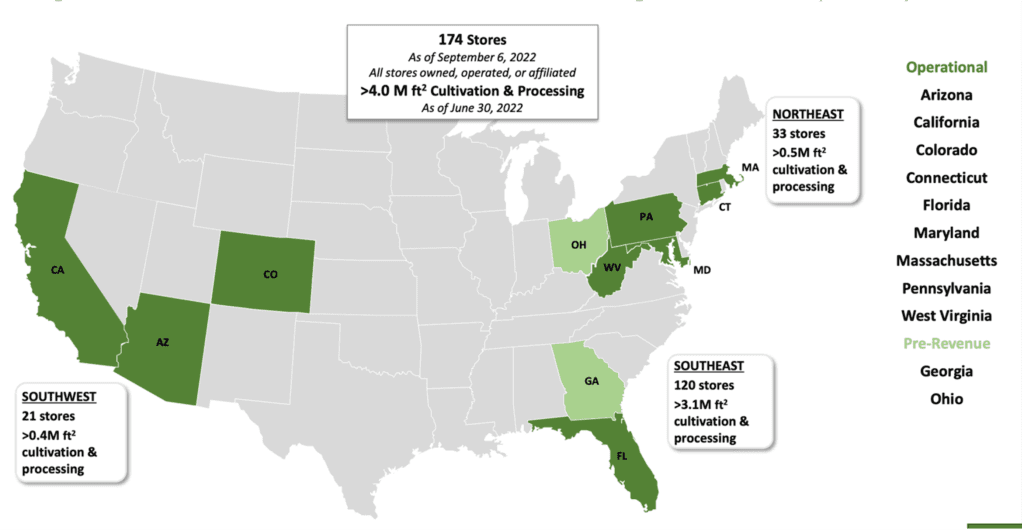 Financials and Regulatory Concerns
Trulieve sets itself apart from the competition by being profitable for 18 consecutive quarters as of 2Q22. On a state-by-state breakdown, only Ohio and Georgia are states which are pre-revenue. Georgia granted Trulieve a medical Cannabis license on September 21st, and Ohio granted them on May 16th. Revenue saw a 50% year-over-year jump, despite economic headwinds. This is primarily due to the October 2021 Acquisition of Harvest Health & Recreation. In addition, increased foot traffic in stores helped by 6% partially offset by the decrease in basket size of 3%. Company raised estimated 2022 revenue guidance 5% after last quarters release.
On paper, Trulieve still reports losses in certain metrics like GAAP earnings-per-share. However, it is critical to note that under tax codes Trulieve is prohibited from deducting certain business expenses from taxes. This means that in 1H22, Trulieve paid an effective tax rate of 285%. Despite this, the EBITDA Margin remains high at 34.7% in 2Q22, but is lower than it was in FY21 at 41.0%. However, Trulieve does have to fully realize non-recurring expenses and impairments that traditional businesses can write-off, and given the aggressive growth strategy it is not something to be worried about.
A concern is usually the lack of available traditional financing for cannabis firms. Handling money tied to the industry is still federally illegal, making it very difficult for federally chartered banks to operate with Cannabis firms. A bipartisan effort has put forward the SAFE Banking Act, which will eliminate federal penalties on banks handling money tied to the cannabis industry. Currently Trulieve has $181 million in cash on hand, expecting $45 million in capital expenditures through 2H22. In FY23, Trulieve expects to be cash flow positive which would only be accelerated by federal legalization passage.
Trulieve has been very active in the lobbying for the legalization for adult-recreational use in several states, namely Florida. Through these actions and contributions, Trulieve will see a legalization ballot initiative in November 2024. Legalization favorability is at an all-time high, with 68% of Americans supporting the initiative.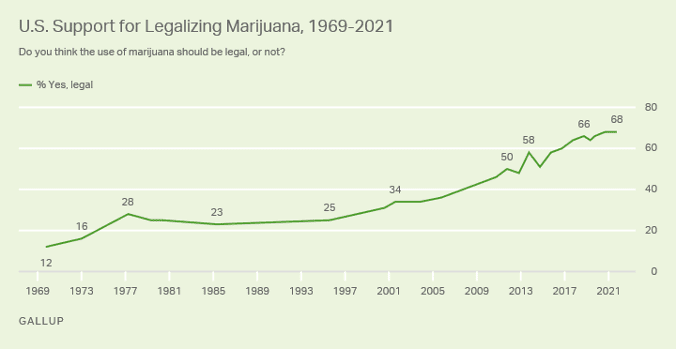 Risk
Trulieve's stock has collapsed from its all-time high thanks to legislatures fumbling on the path to legalizing cannabis as the SAFE Banking Act has stalled. If cannabis legalization does not see a positive outcome from the Florida referendum or federal legalization continues to be delayed, it would significantly reduce the intrinsic value of Trulieve.
Trulieve needs to tackle financing hurdles, needing to fund most expansion with cash on hand. This significantly reduces the capacity for expansion, even with legalization on a state-level. Federally chartered banks are prohibited from handling money that has "touched" cannabis operations, and this would not be changed by state-level legalization.
Competitive Comparisons
| Estimated Next 12 Months | EV-to-EBITDA | Price-to-Sales | Price-to-Earnings |
| --- | --- | --- | --- |
| Trulieve Cannabis (TCNNF) | 5.5 | 1.4 | Neg |
| Ascend Wellness (AAWHu) | 3.0 | 0.5 | 91 |
| Verano Holdings (VRNOF) | 4.8 | 1.5 | 18.3 |