Novel Drug Pipeline Expanding for Novartis
Price $93.99 Recent Purchase June 17, 2021
Extensive portfolio of drugs in development.
Modest growth, with global reach.
Acquisition of promising drug candidates.
Flagship drugs do not begin to expire until the late 2020s.
Investment Thesis
Novartis (NVS) is a Swiss-based pharmaceutical company specializing in a wide variety of drugs, created in a merger 25 years ago. Its primary focus is oncology, cardiovascular health, immunology, neuroscience, and ophthalmology. Novartis markets its products in 155 countries and has a whopping 162 projects in its clinical pipeline. In contrast to some of its competitors, Novartis' flagship drug patents do not expire until late in the 2020s.
While its sales have taken a hit due to COVID-19, its pipeline leads us to believe in the sustainability of its modest growth, with potential for capital appreciation and dividend increases.
Important Products
Name

Uses

Q1 2021

Sales ($ Millions)

Patent Expiration (US)

Cosentxy

Immunosuppressant

1,053

~2026

Gilenya

Immunosuppressant

789

~2027

Entresto

Heart Health

707

2023

Tasigna

Oncology

515

~2025

Lucentis

Diabetes

545

2022

Promacta/Revolade

Immunotherapy

463

~2025

Tafinlar + Mekinist

Oncology

393

2030

Jakavi

Oncology

363

2028

Xolair

Allergy Treatment

355

2031

Zolgensma

Gene Therapy

319 (81% growth)

~2025

Kymriah

Oncology

151 (55% growth)

2031

Mayzent

Neurological (MS)

55 (80% growth)

~2028
Some drugs are covered by multiple patents; therefore, the dates of expiry are averaged out when biosimilar and generics may begin to appear. There is a fast drop-off period once patents expire, and revenue can be cut by billions of dollars should a drug be suddenly cut out of exclusivity.
Novartis has a wide variety of products with a remarkably diverse patent expiry date. The patent cliff is staggered, which should allow for revenue offsets from recently launched and pipeline drugs.
Operations and Priorities
Novartis operates two segments, Novartis Pharmaceuticals, and Sandoz. Novartis Pharmaceuticals is the research and production arm of Novartis, manufacturing its exclusive drugs and researching new products. Sandoz is a global leader in generic and biosimilar manufacturing, allowing people worldwide to access state-of-the-art, high-quality medicines that have gone off-patent cost-effectively.
The growth drivers for Novartis Pharmaceuticals have been Zolgensma, Kymriah, Estresto, and Mayzent.
Zolgensma is a gene therapy drug designed to target the root causes of spinal muscular atrophy (SMA) in infants. Zolgensma is currently the only gene therapy drug for SMA and is a one-time injection that halts the progression of the disease. SMA is the leading genetic cause of infant death and could drastically reduce infant mortality.
Kymriah is also a gene-therapy drug for people with certain types of treatment-resistant Lymphoma and Leukemia. The treatment is a last resort, made from genetically modified white blood cells transfused into the patient.
Entresto is a medication designed to treat chronic heart failure. It is the leading drug in its class and has clinically positive results. Of the 6 million Americans with chronic heart failure, Novartis believes 5 million of those would qualify for treatment with Entresto.
Mayzent is a newly-approved drug (2019 for the US, 2020 for EU) for ceasing the progression of a wide range of multiple sclerosis (MS) types. Since MS is a neurodegenerative disease, halting the progression of the disease is a critical part of treatment.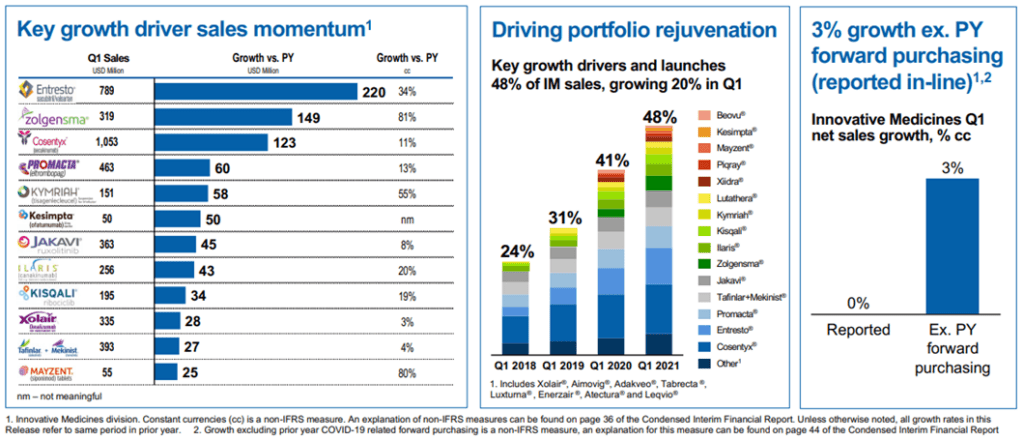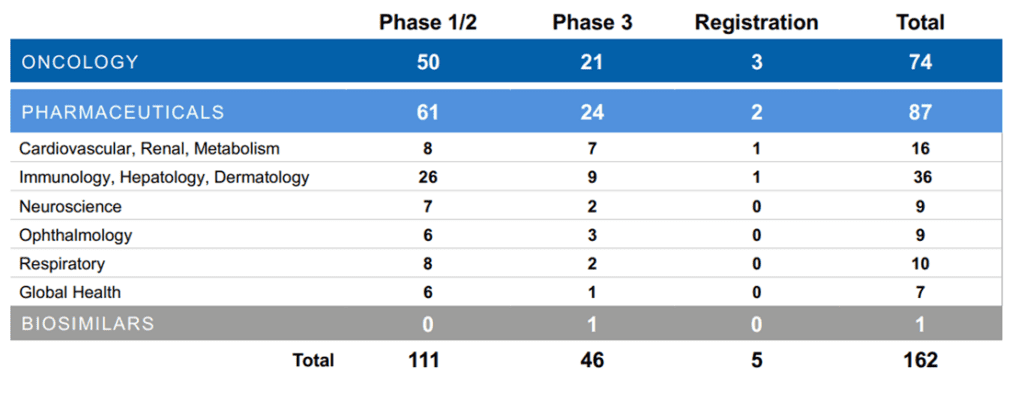 Important Trials
Novartis is collaborating with Molecular Partners to develop and manufacture two different antiviral candidates for COVID-19 treatment. When used together in a regimen, these two antiviral drugs have potential use as prophylactics or as treatments.
Novartis' pipeline is extensive, with several new drugs leaving Phase 3 trials and several existing flagship drugs being entered for new purposes.
Candidate Lu-PSMA-617 is a late phase 3 drug created to improve treatment progression and survival of patients with treatment-resistant prostate cancer. The results of this candidate are promising, and regulatory submission is expected in 2021.
Recently, Novartis acquired licensing for Tislelizumab from BeiGene. Tislelizumab is a drug meant to assist recovery in relapsed patients with multiple types of metastatic carcinomas. Tislelizumab recently proved its efficacy, with the drug significantly prolonging survival in patients.
Cosentyx, an immunosuppressant, is already approved and the top seller of Novartis. However, it was entered into trials for treating patients with youth arthritis. It has had promising results in delaying or reducing flareups.
Risk
As with any pharmaceutical company, the standard risks of regulatory, unforeseen side effects, quality control failures, and biosimilar/generic drugs always exist.
Because Novartis is a Swiss firm, dividends are paid in Francs, and currency risk is something to take into account.
Novartis has been a part of a few minor scandals. One high-profile instance was hiring President Trump's lawyer Michael Cohen as a consultant for a hefty $1.2 million allegedly to influence the President's plan on drug pricing caps. They then lied about this relationship and its details, numerous times. While the risk of moral hazard problems is present in all firms, issues of this scale can damage the reputation of a company severely. Since this time, they have gotten a new CEO, and multiple former executives have resigned, including the former general counsel. This event was a wake-up call for Novartis, who began an ethics overhaul as a result and has changed the way they do business so this does not occur again.
Metrics
Despite the pandemic, Novartis' pharmaceutical portfolio has had modest sales growth of 4%. This is broken down into a 23% increase with "growth drivers" and a 15% decrease in "mature products."
During Q1 2021, its free cash flow fell, as it purchased a license for Tislelizumab with cash on hand.
EV/EBITDA

Forecasted Price-to-Earnings

E2021

E2022

E2023

Novartis (NVS)

13.7

14.4

13.6

12.8
Source: Bloomberg
We expect Novartis' modest growth to continue, with mid-single-digit sales growth. However, once the pandemic ends, we can expect a jump in sales as more people resume or begin treatment for illnesses superseded or delayed by COIVD-19.
| | | | |
| --- | --- | --- | --- |
| Estimated 2021 | Dividend Yield | Market Cap (Billions $) | Price-to-Earnings |
| Novartis (NVS) | 3.6% | 225.10 | 14.4 |
| Johnson & Johnson (JNJ) | 2.5% | 433.83 | 17.3 |
| Pfizer (PFE) | 4.0% | 219.21 | 10.3 |
| Merck & Co (MRK) | 3.3% | 196.92 | 12.5 |
| AbbVie (ABBV) | 4.5% | 203.10 | 9.1 |
| Bristol-Meyers Squibb (BMY) | 2.9% | 148.16 | 8.9 |
Source: Bloomberg
FDA Approval Process
The FDA approval process begins once a biologics license (BLA) or new drug (NDA) is filed. The FDA has massive power in deciding if – and when – a drug will become available for sale. There are 5 program designations. Fast track, breakthrough, accelerated approval, priority review, and standard (drugs can hold more than one designation). The fast track gives the FDA access to facilities and researchers, to allow for the FDA to see developments as they happen (rolling submission of documents for example). Breakthrough is analogous to fast track but involves a more FDA-intense process, including more implementation guidance. Accelerated approval allows the FDA to preemptively approve a product based on preliminary results that can predict clinical benefit; this does require post-approval confirmatory trials. Priority review means the FDA will take action within 6 months, compared to under 10 months which is standard.